This Polymer Zipper Sweat Vest for men TRAPS THE HEAT around your core and enhances natural perspiration up to 3x times more than normal gym clothing.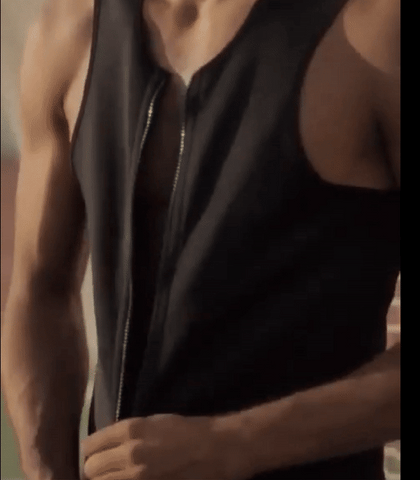 Boost metabolism, enhance calorie burning, boost detoxification and make every workout more satisfying. This vest was carefully designed to help you smash your fitness goals fast.
Our all-new Polymer Zipper Sauna Vest is made from ultra-advanced spandex and polymer fabrics that turn up the heat IMMEDIATELY and get you on the fast track to your best body.
It fits snugly around your core and chest and is designed to keep you sweating inside but comfortable and dry on the outside.
EXPERIENCE THE DIFFERENCE - Wear it in the gym or while performing any everyday activity, you'll instantly feel the heat.
KEY BENEFITS
Super comfortable, it molds and moves with your body during workouts or everyday activities.
Putting it on is a breeze: our high-quality zipper allows you to put it on or take it off easily.
Exceptionally flexible and versatile: featuring a tank top style you can choose to wear it hidden underneath the clothes of your wish.
Its special material increases body temperature and wicks away sweat so you're

 

always

 

dry on the outside.
Ultra-Thin yet

 

extremely

 

effective fabric that's breathable, comfortable, and super quick to dry. This vest won't add

 

any

 

bulkiness to your workout outfit.
Provides a hot-sauna-like experience including many of the same scientifically proven health benefits. (Increased calorie burning, detoxification, improved immune system, enhanced blood flow, faster warm-up & recovery times, the greater release of endorphins, etc.)
Features an

 

anti-roll

 

silicone lining so it stays in place with every movement.
Fully Machine Washable: made of

 

ultra-advanced

 

polyurethane inner layer that preserves heat yet allows the vest to be machine washed.
 NOTE: Exercise and a healthy diet are an integral part of every weight loss and fitness journey, and these products are designed to supplement and enhance but not replace those components.