Record studio-quality audio with this amazing mic,Say goodbye to bad sound recording quality. Small and portable,and
NOISE CANCELLATION TECHNOLOGY
both Android and iOS can be used, and the connection will not drop 50 meters away. Support mobile phones, tablets, cameras, laptops.

Features:
1. 0 ms ultra-low latency,20 m barrier-free reception,it can use outdoor live broadcast and take a small video It doesn't need APP,plug-and-play,one-click connection,easy to wear
High Density Spray-proof Sponge and High-sensitivity Microphone enable 360-degree sound reception within the distance of 50ft.
2. Intelligent noise reduction,long endurance of 10 hours,easy to cope with all kinds of noisy environment,worry-free shooting,meet your needs for a day.
Our noise cancellation technology ensures top-quality sound transmission and amplification, no matter where you are working, making it perfect for professionals who demand premium audio quality.
SAY GOODBYE TO BACKGROUND NOISE AND HELLO TO A BROADER AUDIENCE!

TRIPLE-LEVEL NOISE CANCELLATION TECHNOLOGY
Say goodbye to unwanted background noise with our cutting-edge triple-level noise cancellation technology. This advanced feature makes it incredibly simple to reduce ambient noise and ensures that you get crystal-clear audio every time. With the right technology at your fingertips, minimizing unwanted background noise is as easy as counting to three.
4. 360 full pointing pick up,record every detail of the sound.
Small and convenient,it compatible with various devices,support mobile phone, tablet, camera, notebook,etc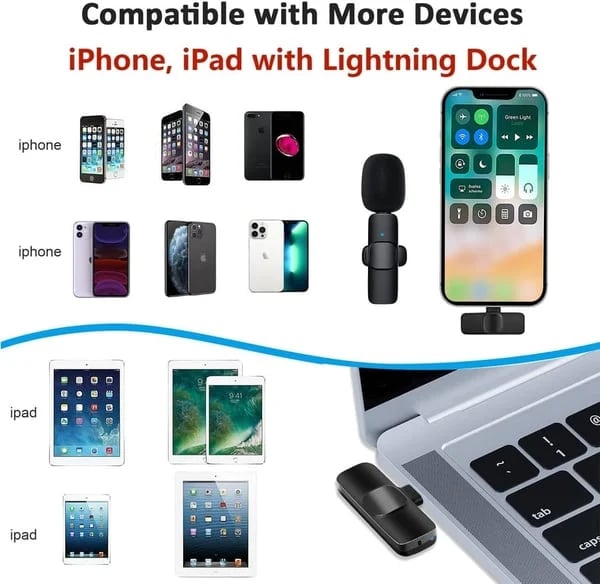 Specification:
Frequency: 20Hz-20kHz
Input voltage: 220V
Charging port: for Lightning/for Type-C
Battery capacity: 60mAh
Transmission Distance: 8 m barrier, 20 m barrier free
Microphone size: 16*7mm
Microphone weight: 6g
Receiver size: 45*28mm
Receiver weight: 4g




Package included:
1 x Rechargeable Wireless Microphone

1 x Receiver

1 x English Manual

1 x USB cable